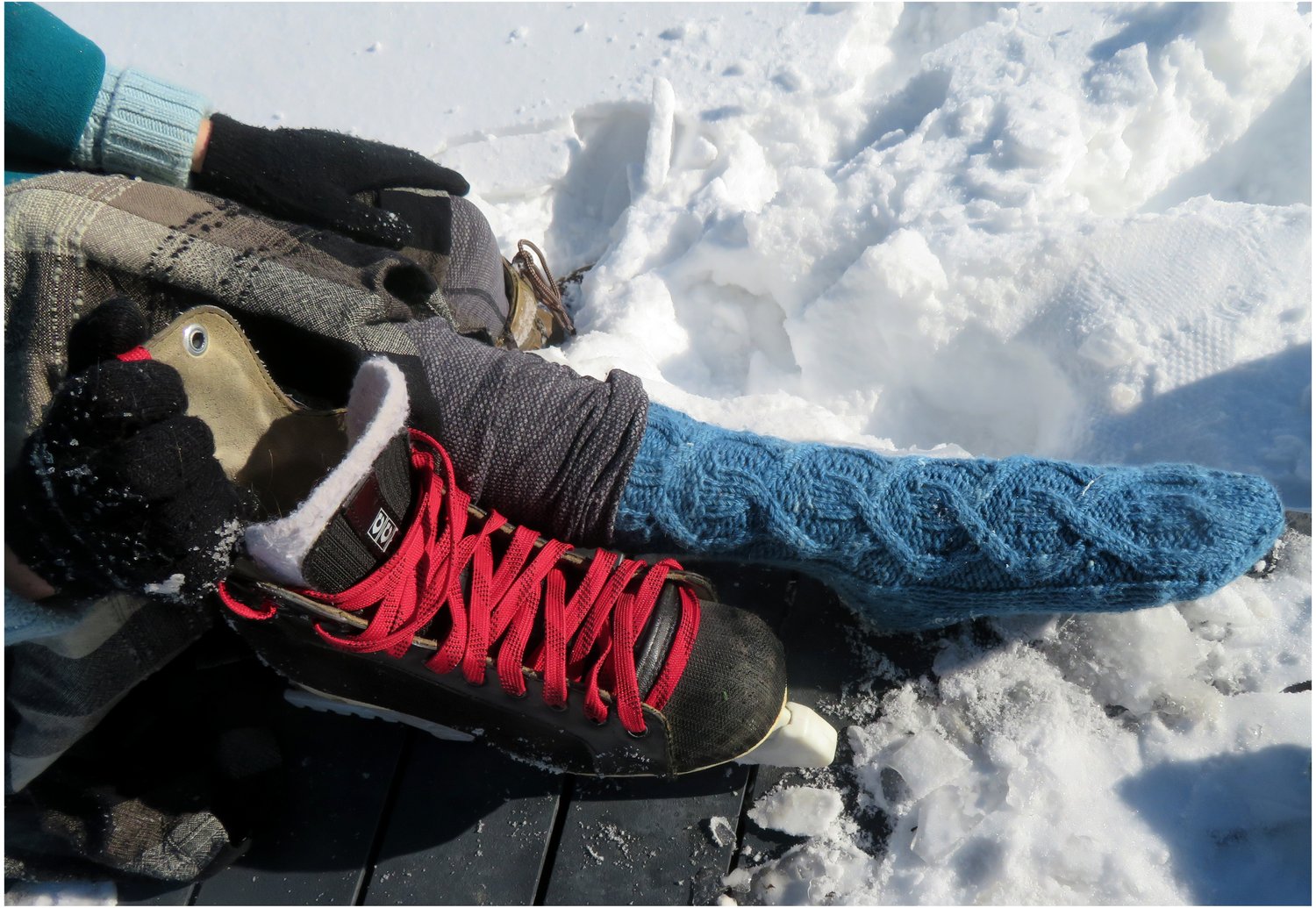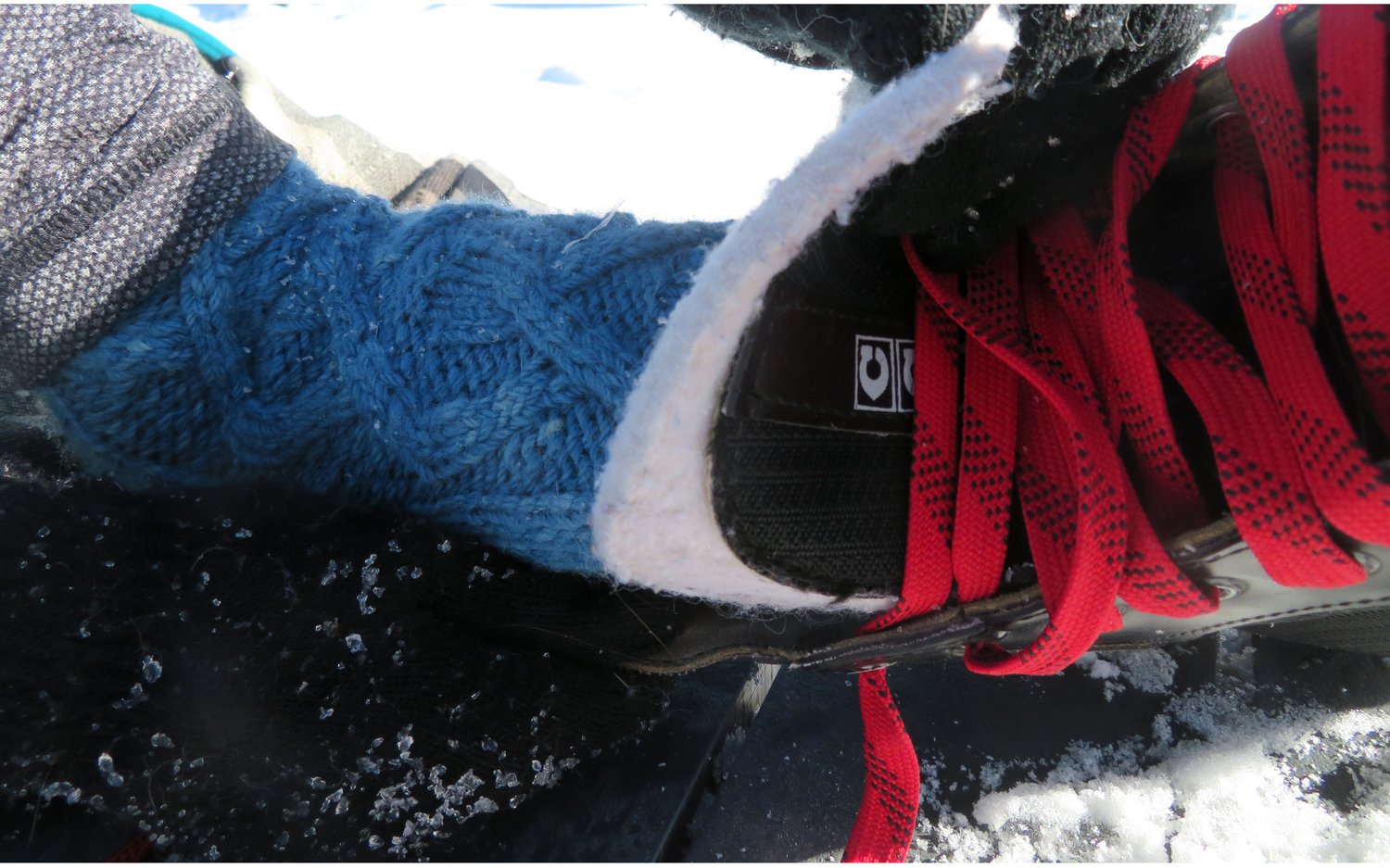 Statement Cabled Socks Digital Knitting Pattern
On Sale
Downloader's Notes: These are crochet patterns, not physical goods. What you will be purchasing are digital .pdf files that contain the instructions to crochet the item shown.
Please also note, that due to the nature of PDF downloads, I am unable to offer refunds at this time.
However, I am available by e-mail, to answer any questions/concerns you may have.
Also, please note that depending on your location, taxes or VAT may be added to your purchase price.
- - -
The Statement Socks are specifically designed to be beautiful heavy socks, perfect for cold winter weather or for participating in winter sports!
The socks are knit cuff down with a slipped-stitch heel flap and grafted toe. The cable instructions are both charted and written. The pattern comes in multiple adult sizes; and is further adjustable to your own foot for a proper fit!
The sample was knit with two skeins of a Worsted-Weight Finn/Gotland/BFL blend from
All Sorts Acre Farms
. As this yarn is not readily commercially available, I'd suggest 
Briggs & Little Tuffy
for a commercially available substitute that may be available online or in your local yarn shop. For other substitutions, I'd suggest a Worsted or Aran weight multi-ply wool, or a wool/nylon blend
designed for heavy socks (sometimes labeled 'boot socks').
For questions and support, please e-mail me at
sarahdawnsdesigns@gmail.com
- - - 
Pattern Notes:
These socks are knit cuff down, and can be done using most circular knitting methods (double-pointed needles, magic loop, two circular needles, etc). So long as you can knit on a small circumference, you can use any technique suitable to knit these socks.
The heel is a slipped stitch heel flap, worked flat, and the heel is turned with short rows. Gusset stitches are picked back up from the edge of the heel flap then decreased until the appropriate foot circumference is reached. The toe is finished with a stocking stitch graft (also known as Kitchener stitch).
The Cable Pattern is both charted and written. 
This knitting pattern also has an accessible large print option that is compatible with screen-reading software, which includes the written instruction.  
Pattern has been tech-edited. 
Errata Link
Sizes Available: Four Sizes:
Leg/Foot Circumference: 7 (8, 9, 10) inches (18, 20.5, 23 25.5 cm)
Materials Required:
160 (178, 214, 232) yards / 146 (163, 196, 212), 2 skeins of All Sorts Acres Farms Happy Sheep. (100% Wool)
Needles:
3.25 mm (US 3) double-pointed  or circular needles for working small circumferences in the round
Notions:
tapestry needle
cable needle
optional stitch marker


Gauge for Pattern:
16 sts and 30 rounds = 4 inches (10 cm) square in stocking stitch
20 sts and 26 rounds = 4 inches (10 cm) square in cable pattern
Techniques Used:
long-tail cast on
decreases: k2tog, p2tog, ssk
working cables with a cable needle
working in the round with a small circumference
picking up and knitting stitches from a slipped-stitch edge
grafting stocking stitch
-  - -
Pattern Usage:
For Wholesale Inquiries, please, e-mail me at sarahdawnsdesigns@gmail.com
You may not re-distribute this PDF.
While you may teach a knitting class using this pattern, each student in the class must purchase a copy. However, if you would like to purchase discounted copies of the pattern in bulk for a class, please contact me for details.
If you'd like to make any of my designs as donations to charity, go right ahead. If you want to sell anything you've created from my designs for charity or commercial purposes, also go right ahead.
The only thing I ask for the above is that you credit me ("Sarah Dawn's Designs") and list the pattern name as well. Thank you!
If you would like to offer to translate this pattern into other languages, I'd love to work with you to do so! Please, contact me by e-mail to discuss the details.
Newest Update: April 7, 2022
- - -
If you would like to try this pattern from Sarah Dawn's Designs for free, you can
sign up for the Sarah Dawn's Designs E-mail Newsletter
and a Free Pattern Download. 
Also, Sarah Dawn's Designs is now on Patreon! For access to exclusive behind-the-scenes content, discounts, input on designs, live-chats, and more, please
come join in
!
- - -
If you have any questions, please, don't hesitate to get in contact with me! You can e-mail me at
sarahdawnsdesigns@gmail.com
Photography: Stephanie Wallace
Image Descriptions: 
1)  Someone wearing a heavy aran-weight knit sock with cables.
2) Someone wearing a heavy aran-weight knit sock with cables, with one foot in an ice skate.