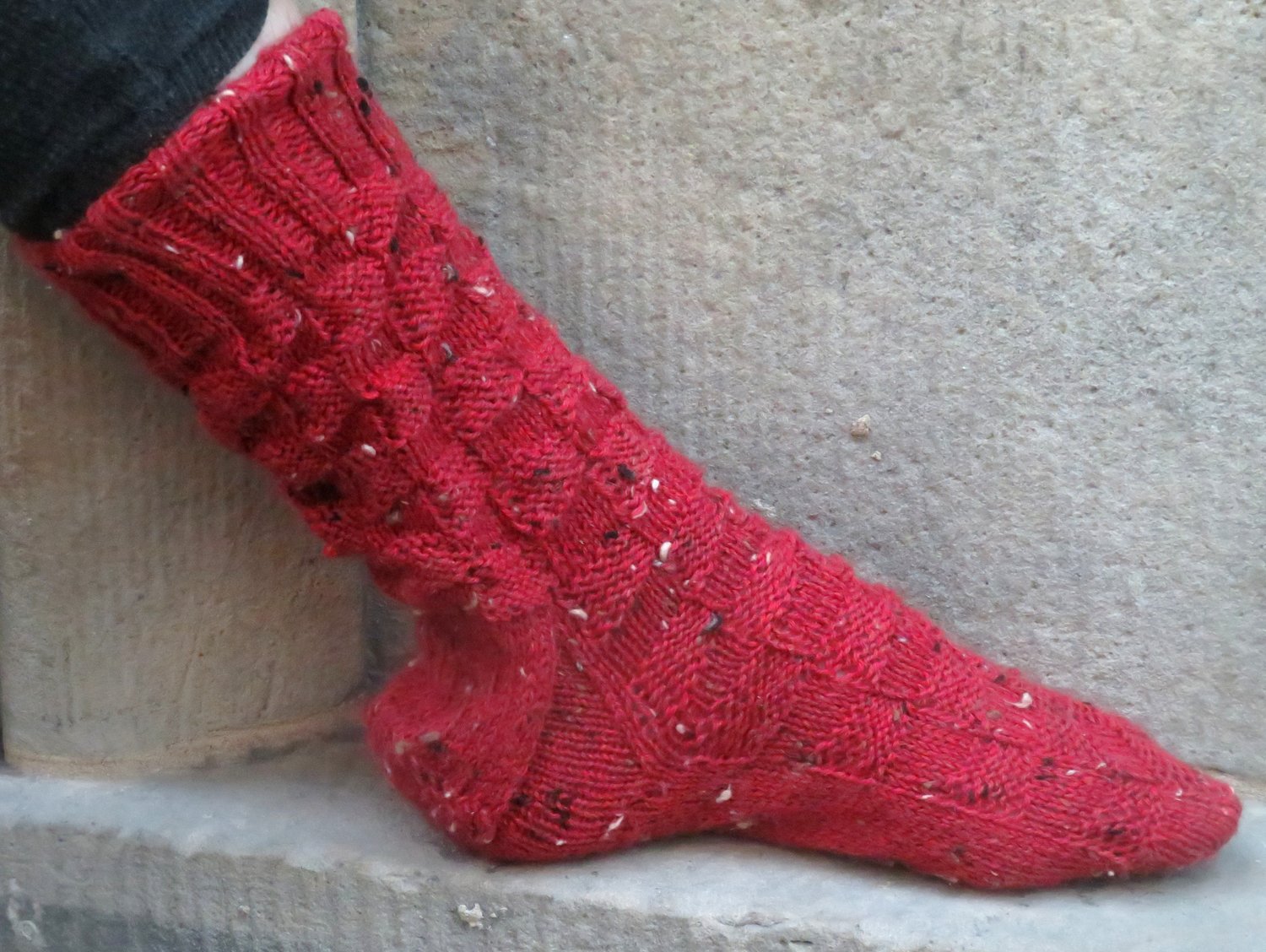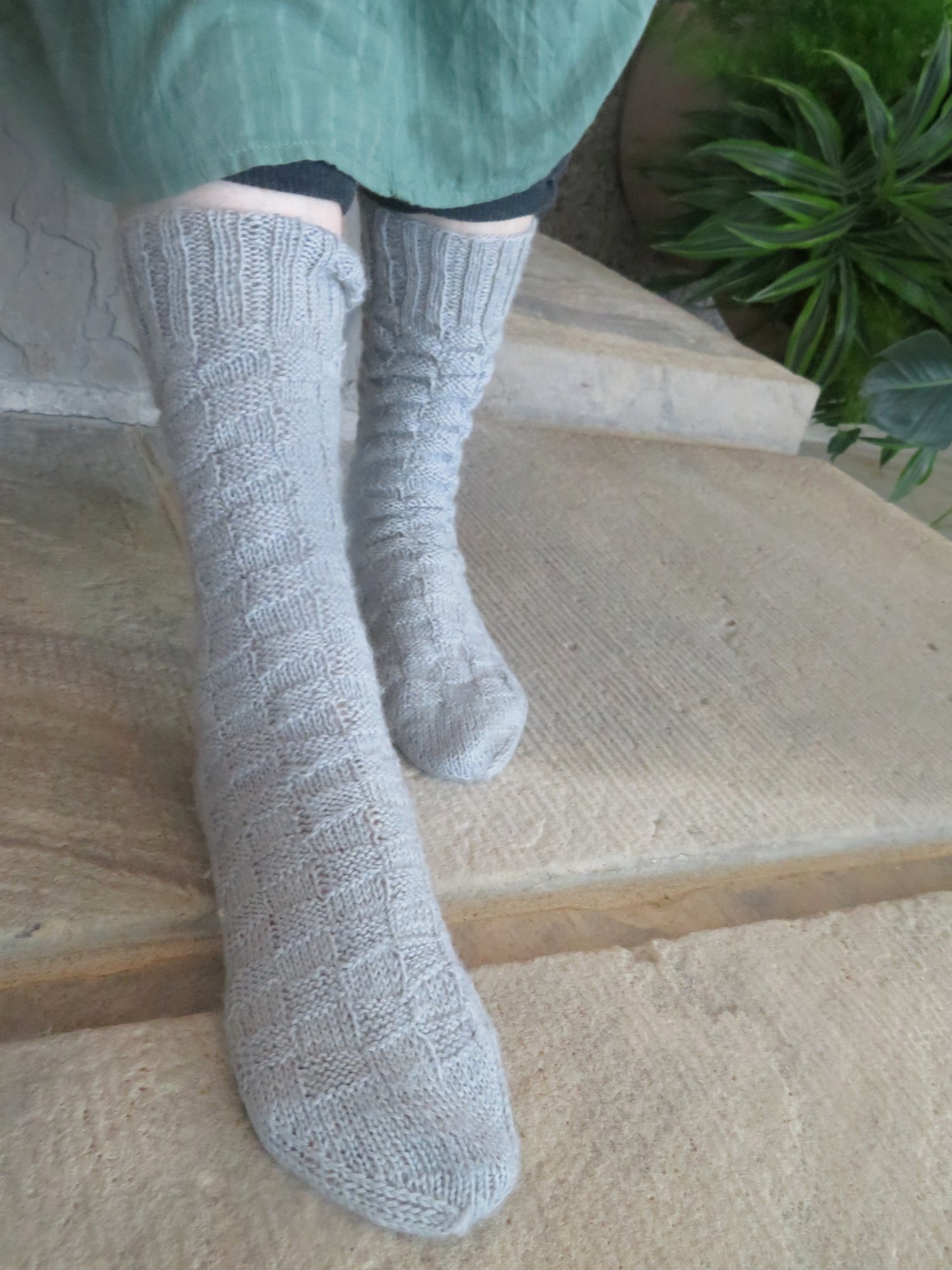 Brickworks Socks Digital Knitting Pattern
On Sale
Downloader's Notes: These are crochet patterns, not physical goods. What you will be purchasing are digital .pdf files that contain the instructions to crochet the item shown.
Please also note, that due to the nature of PDF downloads, I am unable to offer refunds at this time.
However, I am available by e-mail, to answer any questions/concerns you may have.
Also, please note that depending on your location, taxes or VAT may be added to your purchase price.
Any link marked with an * is an affiliate link, meaning I get a commission or reward if you make a purchase through those links - there's no additional cost to you!
These socks started after getting the idea to model a stitch pattern after some old brickwork on a converted factory building! After playing about, I got a simple knit and purl pattern that really resembled bricks!
With a simple stitch pattern that only uses knits and purls, this is a perfect sock for a beginner knitter who's just getting into the wonderful world of hand-knit socks.
They're knit from the cuff down; using a heel-flap and gusset, so you do have to pick up and knit, but there are tutorial links right in the pattern to help you through it! The toe is sewn up with grafting (also known as Kitchener stitch), and again, if you're not sure, don't worry, there are tutorial links right in the pattern, as well!)
The Red sample was knit in *Knit Picks Stroll Tweed in "Firecracker Heather" (65% Superwash Merino, 25% Nylon, 10% Donegal Tweed), and shown in size S. The Grey sample was knit in *West Yorkshire Spinners 4-Ply in "Dusty Miller" (75% Wool, 25% Nylon), and is also shown in size S.
For questions and support, please e-mail me at sarahdawnsdesigns@gmail.com.
This pattern is also available for Pattern Subscribers on Patreon!
Pattern Notes:
These socks are knit from the cuff down, with a heel-flap and gusset style heel. The stitch pattern is continued on the instep, and the toe is decreased and then seamed with grafting (Kitchener Stitch).
This pattern has written instructions only. This pattern also has an accessible large print option that is compatible with screen-reading software.
---
Sizes:
Sizes Available: S, (L)
Leg Circumference: 7 (8.5) inches, (18, 21.5 cm)
Foot Length: Adjustable.
Materials Required:
308 (370) yards / 281 (338) meters of fingering weight sock yarn.
Needles:
2.5 mm (US 1.5) *Circular or Double-Pointed Needles
Notions:
Gauge for Pattern:
28 sts and 44 rounds = 4 inches (10 cm square) in pattern stitch.
34 sts and 48 rounds = 4 inches (10 cm square) in stocking stitch
Techniques Used:
long-tail cast on
decreases: k2tog, ssk, p2tog
picking up stitches from a slipped stitch edging
stocking stitch grafting (Kitchener stitch)
Pattern Usage:
For Wholesale Inquiries, please, e-mail me at sarahdawnsdesigns@gmail.com
You may not re-distribute this PDF. While you may teach a knitting class using this pattern, each student in the class must purchase a copy. However, if you would like to purchase discounted copies of the pattern in bulk for a class, please contact me for details.
If you'd like to make any of my designs as donations to charity, go right ahead. If you want to sell anything you've created from my designs for charity or commercial purposes, also go right ahead.
The only thing I ask for the above is that you credit me ("Sarah Dawn's Designs") and list the pattern name as well. Thank you!
If you would like to offer to translate this pattern into other languages, I'd love to work with you to do so! Please, contact me by e-mail to discuss the details.
Newest Update: June 1, 2023
---
If you would like to try this pattern from Sarah Dawn's Designs for free, you can sign up for the Sarah Dawn's Designs E-mail Newsletter and get a Free Pattern Download. 
Also, Sarah Dawn's Designs is now on Patreon! For access to exclusive behind-the-scenes content, discounts, input on designs, live-chats, and more, please come join in!
If you have any questions, please, don't hesitate to get in contact with me! You can e-mail me at sarahdawnsdesigns@gmail.com
Photography: Stephanie Wallace
Image Descriptions:
someone wearing a pair of red socks knit in fingering-weight yarn. The socks are knit in a knit and purl checkerboard pattern
someone wearing a pair of red socks knit in fingering-weight yarn. The socks are knit in a knit and purl checkerboard pattern.
a red sock knit in fingering-weight yarn. The sock is worked in a knit and purl checkerboard pattern.
someone wearing a pair of grey socks knit in fingering-weight yarn. The socks are knit in a knit and purl checkerboard pattern.
a grey sock knit in fingering-weight yarn, the sock is worked in a knit and purl checkerboard pattern