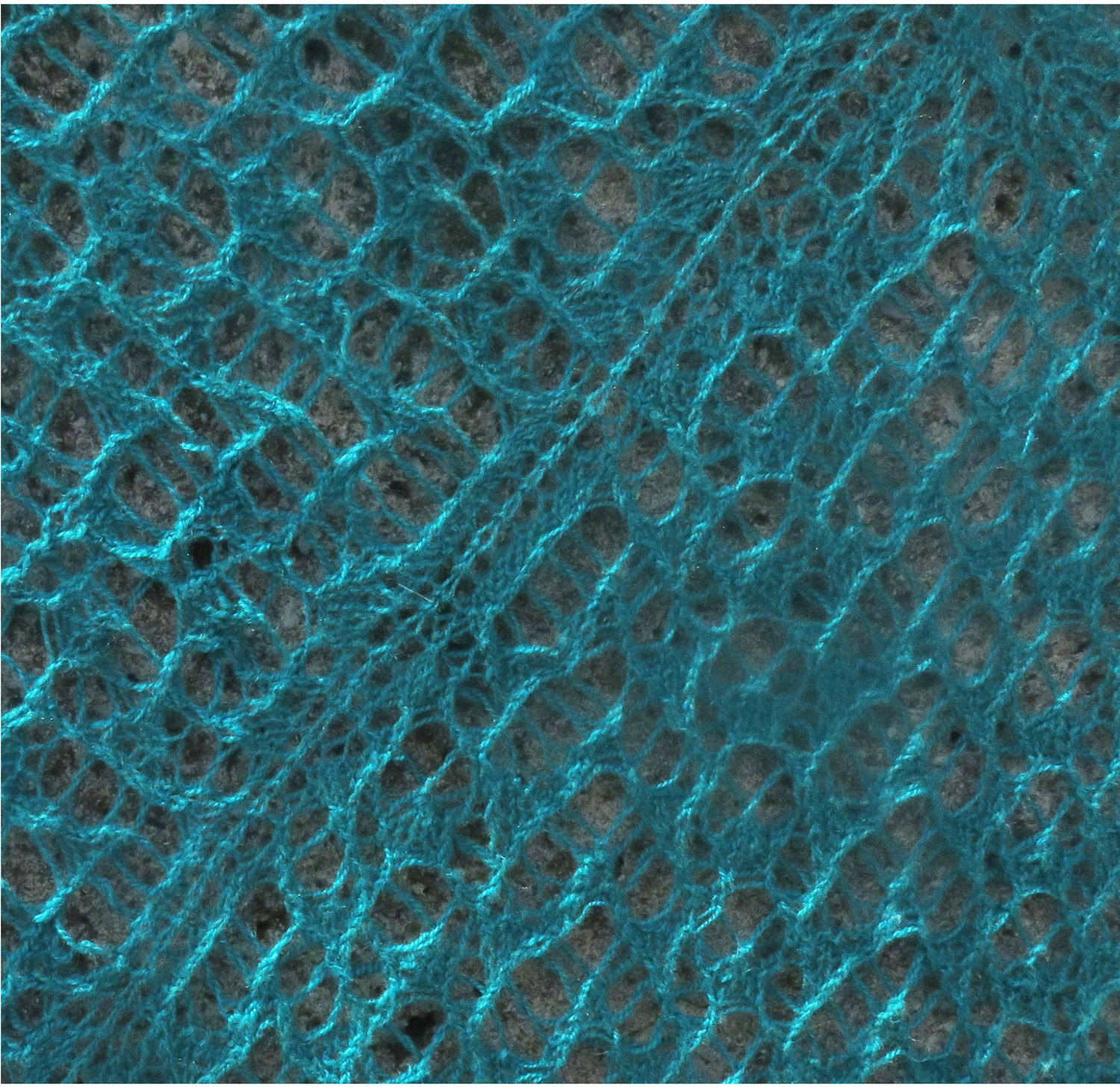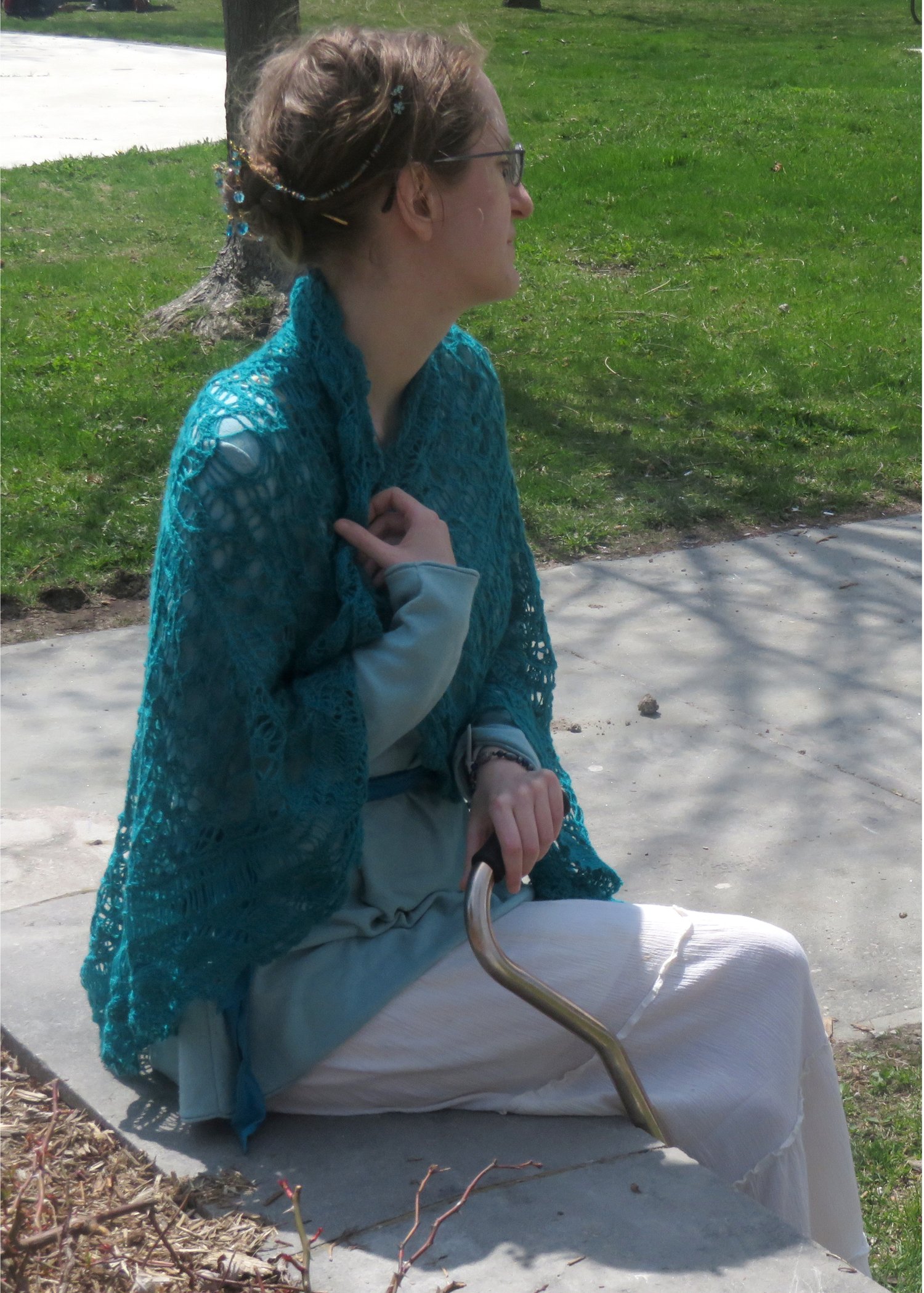 Marianna Shawl Digital Knitting Pattern
On Sale
Downloader's Notes: These are knitting patterns, not physical goods. What you will be purchasing are digital .pdf files that contain the instructions to knit the item shown.
Please also note, that due to the nature of PDF downloads, I am unable to offer refunds at this time.
However, I am available by e-mail, to answer any questions/concerns you may have.
Also, please note that depending on your location, taxes or VAT may be added to your purchase price.
- - -
The design for this large square shawl came about after exploring the beautiful Stitch Patterns of Gannet Designs. They seemed the perfect stitch patterns for the mesh lace of a larger shawl.
The sample shawl is knit in
Knit Picks Gloss Lace
in the colourway "Marina". (This is an affiliate link, meaning I get a commission if you make a purchase - there's no extra cost to you!)  And this inspired the name of the shawl, because, during the entire production process, my brain kept insisting that the colourway was called "Marianna"! Hence, the Marianna Shawl!
The shawl is knit in the round from centre out. The edging is knit flat and joined to the shawl as you work. The main lace mesh motif and the edging pattern are both charted, with written instructions available as a secondary download.
When looking for a substitute yarn, any fingering-weight or lace weight yarn would work well. I'd suggest anything with a good bit of drape -- silk, bamboo, or alpaca blends.
Note that gauge and yarn weight are both flexible for this pattern, though it will change the appearance and/or size of the finished object.
For questions and support, please e-mail me at sarahdawnsdeigns@gmail.com.
- - -
Pattern Notes:
This pattern has written instructions available as a secondary download, and the stitch pattern is both written and charted. This pattern also has an accessible large print option that is compatible with screen-reading software. This option includes only the written instruction.
Errata Link 
Shawl Size: 68 inches (170 cm) square
Materials Required:
1578 yards (1443 meters) of lace or fingering/sock yarn. Sample knit in Knit Picks Gloss Lace, in the colourway "Marina".
Notions:
tapestry needle
1 locking stitch marker
3 contrasting locking stitch markers
Optional: 32 stitch markers to mark the stitch repeats
Gauge for Pattern:
32 sts and 20 rows = 4 inches (10 cm square) in stocking
stitch.
Techniques Used:
increases: m1, yo
decreases: k2tog, k3tog, p2tog, p3tog, ssk, sssk, cdd
twisted stitches: ktbl
pinhole/Emily Ocker cast on
backwards loop cast on
knit cast off
working cables without a cable needle
working small circumferences in the round
wrap and turn short rows
- - -
Pattern Usage:
You may not re-distribute this PDF.
While you may teach a knitting class using this pattern, each student in the class must purchase a copy. However, if you would like to purchase discounted copies of the pattern in bulk for a class, please contact me for details.
If you'd like to make any of my designs as donations to charity, go right ahead. If you want to sell anything you've created from my designs for charity or commercial purposes, also go right ahead.
The only thing I ask for the above is that you credit me ("Sarah Dawn's Designs") and list the pattern name as well. Thank you!
If you would like to offer to translate this pattern into other languages, I'd love to work with you to do so! Please, contact me by e-mail to discuss the details
Newest Update: July 8th, 2020
- - -
If you would like to try this pattern from Sarah Dawn's Designs for free, you can sign up for the Sarah Dawn's Designs E-mail Newsletter and a Free Pattern Download here: http://eepurl.com/cd6MB1
Also, Sarah Dawn's Designs is now on Patreon! For access to exclusive behind-the-scenes content, discounts, input on designs, live-chats, and more, please come join in!
https://www.patreon.com/SarahDawnsDesigns
- - -
If you have any questions, please, don't hesitate to get in contact with me! You can e-mail me at sarahdawnsdesigns@gmail.com
Image Descriptions:
Image 1: A woman with her back to the camera. A large green-blue lace shawl is over her shoulders. The shawl is square and hangs down over her back.
Image 2: A lace leaf pattern knit in blue-green yarn; knit sideways on the body of a lace mesh shawl. 
Image 3:  A mesh lace pattern stretched out over concrete.
Image 4 and 5: A woman sitting on a concrete edge; wearing a large blue-green lace shawl. She is holding the shawl at her neck with one hand. There is a cane in her other hand.