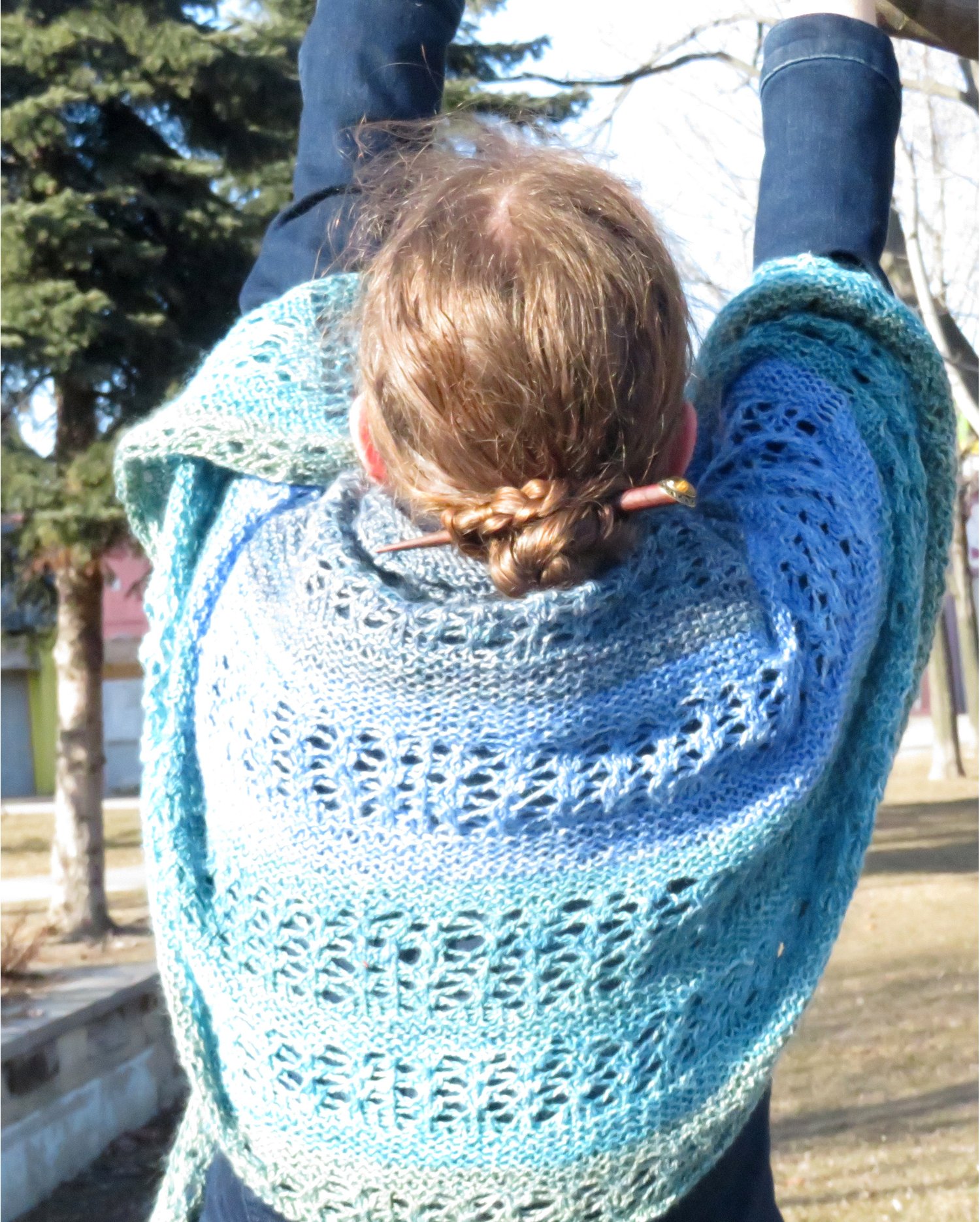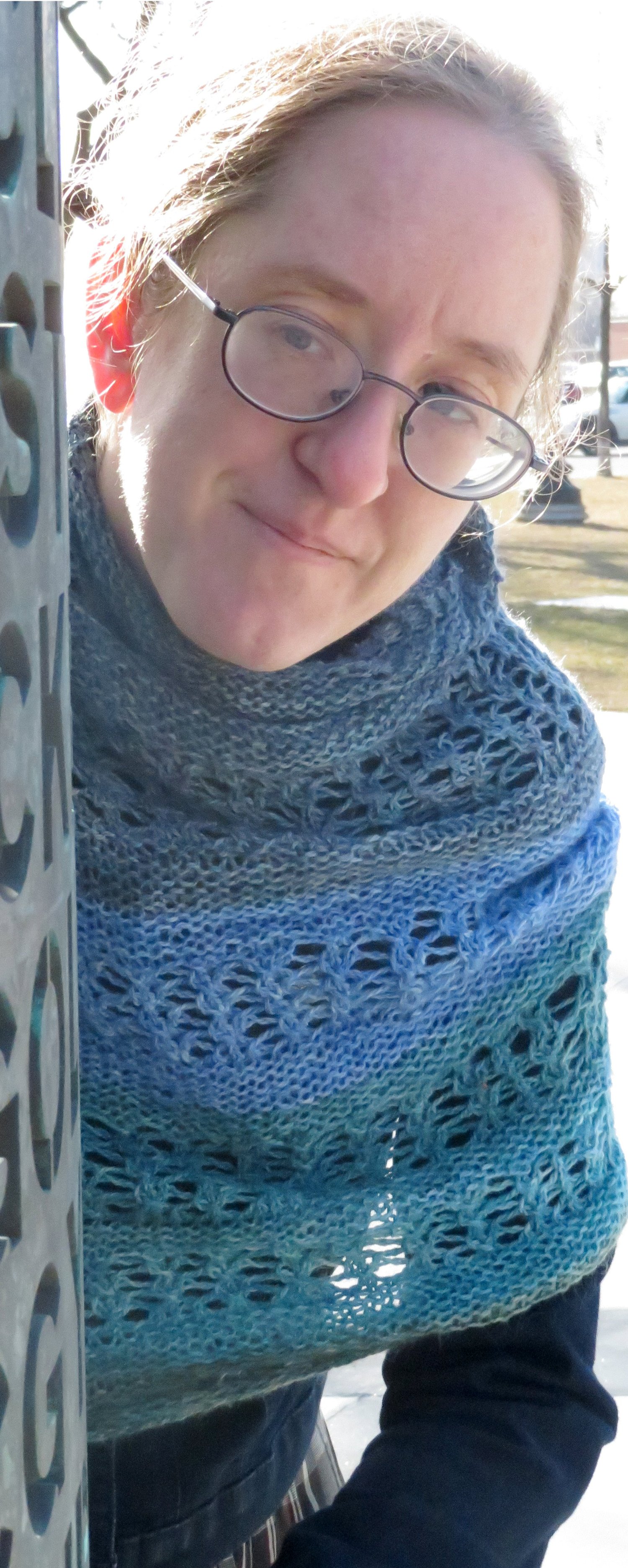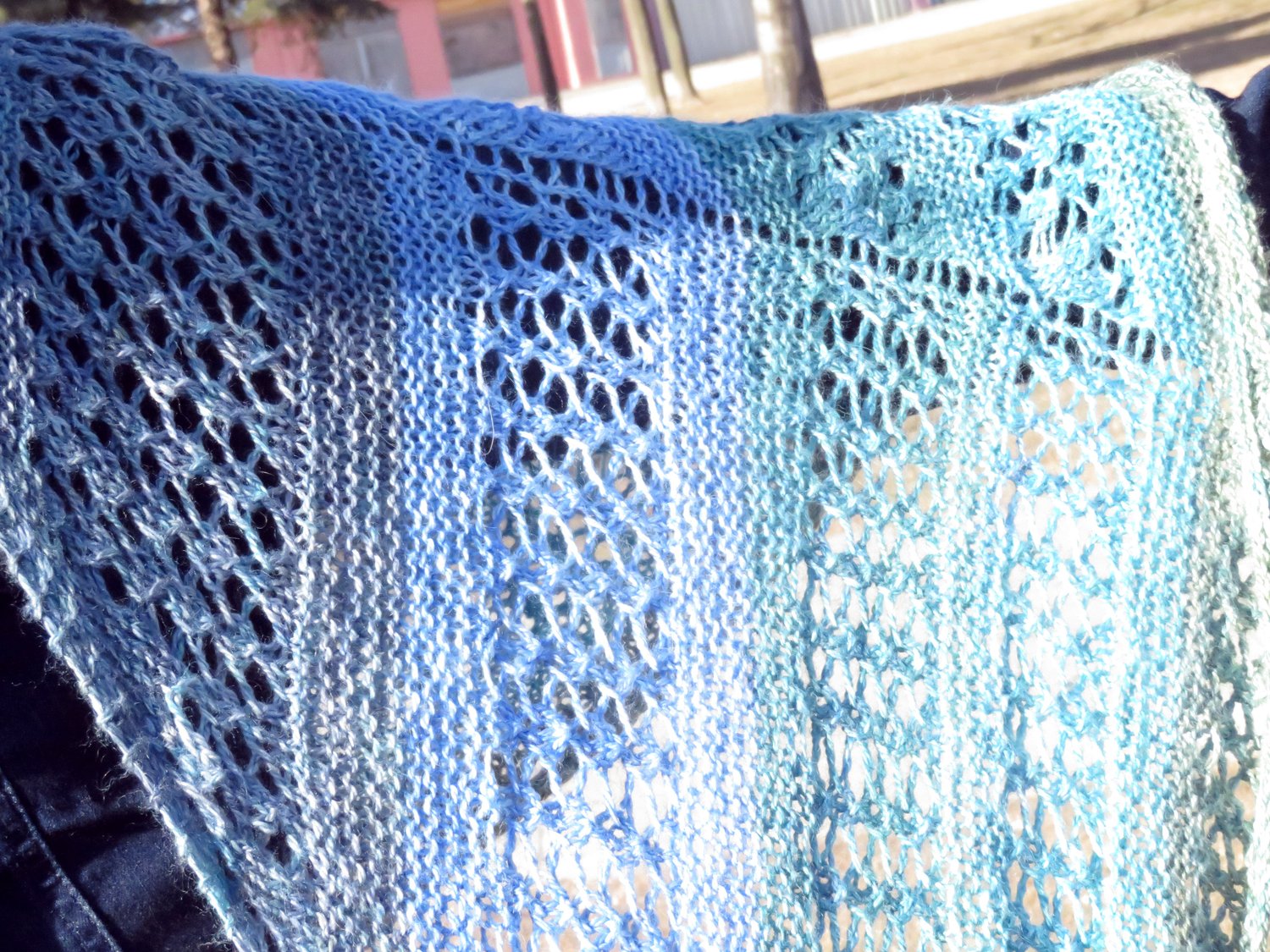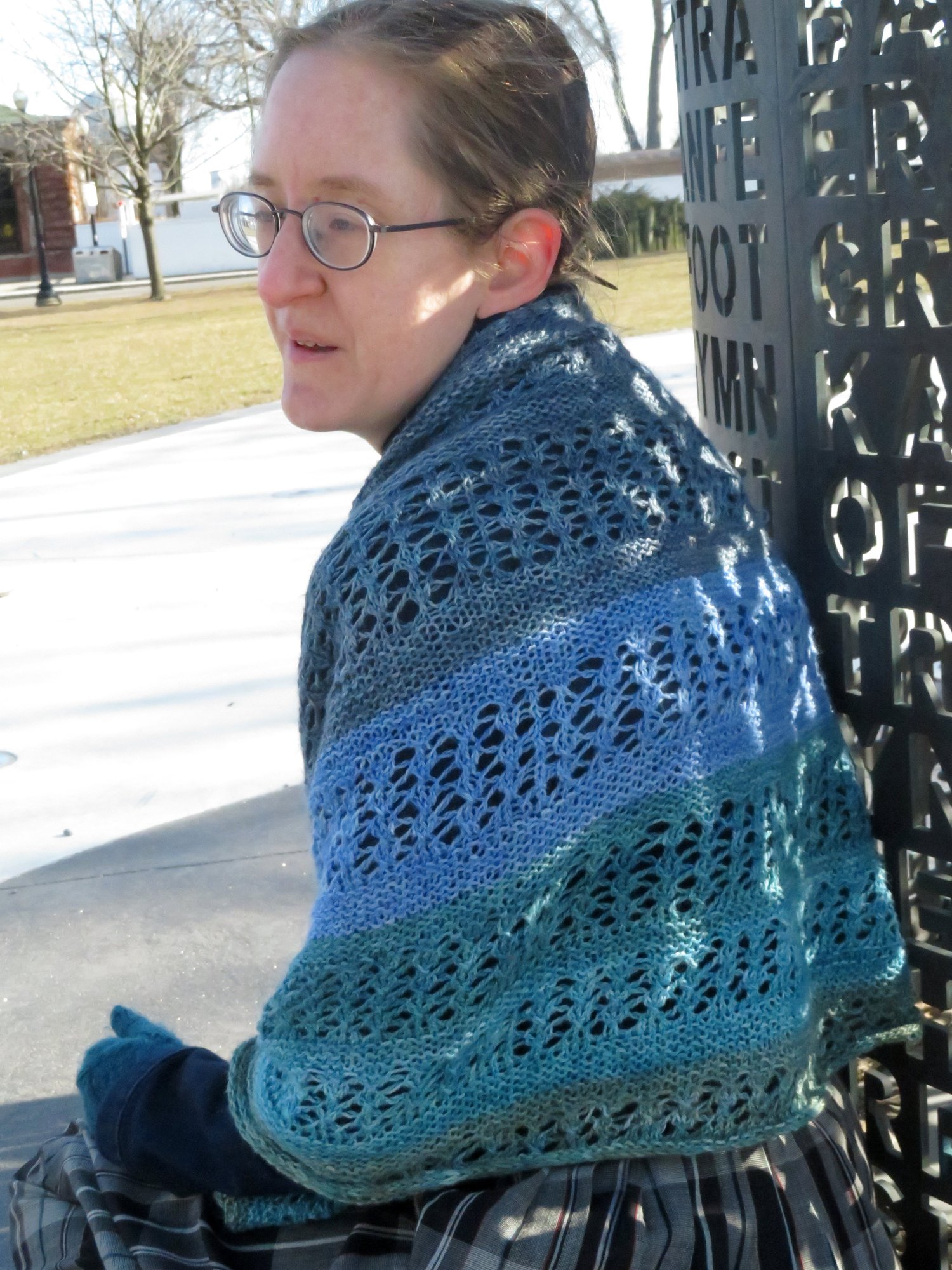 Colours of Spring Shawl Digital Knitting Pattern
On Sale
Downloader's Notes: These are knitting patterns, not physical goods. What you will be purchasing are digital .pdf files that contain the instructions to knit the item shown.
- - - -
Please also note, that due to the nature of PDF downloads, I am unable to offer refunds at this time.
However, I am available by e-mail, to answer any questions/concerns you may have.
Also, please note that depending on your location, taxes or VAT may be added to your purchase price.
- - -
The idea of a striped shawl using gradient sets had been something I'd been considering for a bit. It was some experimentation with gradient swatches that led to the creation of this shawl!
For questions and support, please e-mail me at 
sarahdawnsdesigns@gmail.com.
- - -
Pattern Notes:
The Colours of Spring Shawl starts with a Garter Tab Cast on, and then is shaped into a crescent by 4 increases every two rows. The shawl is knit in alternating sections of garter stitch and lace. It was specifically designed to work up using mini-skein sets. The instructions are written and the lace motif is charted and written. There are two options for edging the shawl. The sample is edged with an i-cord bind off, but the pattern includes instructions for a ruffled edge, as well.
The sample was knit using two of a fingering-weight 100% Superwash Merino gradient set from
OceanWind Knits.
  If you're substituting yarns, I'd suggest a fingering or sport weight with a mostly wool content. The placement of the garter stripes can be adjusted to account for differing yardages between mini-skein sets.
Note that gauge and yarn weight are both flexible for this pattern, though it will change the appearance and/or size of the finished object.
This pattern has written instructions, and the stitch pattern is both written and charted. This pattern also has an accessible large print option that is compatible with screen-reading software. This option includes only the written instruction.
Errata Link
Sizes Available:  One, Adjustable:
Finished Measurements:
Wingspan: 76 inches (193 cm)
Depth: 22 inches (56 cm) at center.
Materials Required:
880 yards (805 meters) of fingering or sock yarn. Sample is knit in OceanWind Knits set of 5 Gradient Skeins (25 g per each mini-skein), and calls for 2 sets of 5 mini-skeins.
Needles:
3.5mm /US 4 circular needles: 1 32 to 47 inch (81 to 120 cm) circular needle to accomodate a large number of stitches. 
Optional 3.5mm double-pointed needle for i-cord bind off 
Notions:
9 stitch markers in 4 contrasting colours
tapestry needle
Gauge for Pattern:
24 sts and 32 rows = 4 inches (10 cm square) in stocking stitch
Note that gauge and yarn weight are both flexible for this pattern, though it will change the appearance and/or size of the finished object.
Techniques Used:
Garter Tab Cast On
Decreases: k2togtbl, sl 2 k1, p2sso
Increases: yo, kfbf
Picking up stitches from garter stitch
I-cord bind off
Stretchy bind off using k2togtbl
- - - 
You may not re-distribute this PDF.
While you may teach a knitting class using this pattern, each student in the class must purchase a copy. However, if you would like to purchase discounted copies of the pattern in bulk for a class, please contact me for details.
If you'd like to make any of my designs as donations to charity, go right ahead. If you want to sell anything you've created from my designs for charity or commercial purposes, also go right ahead.
The only thing I ask for the above is that you credit me ("Sarah Dawn's Designs") and list the pattern name as well. Thank you!
If you would like to offer to translate this pattern into other languages, I'd love to work with you to do so! Please, contact me  by e-mail to discuss the details
- - -
If you would like to try this pattern from Sarah Dawn's Designs for free, you can 
sign up for the Sarah Dawn's Designs E-mail Newsletter
 and get a Free Pattern Download!
Also, Sarah Dawn's Designs is now on Patreon! For access to exclusive behind-the-scenes content, discounts, input on designs, live-chats, and more, please 
come join in
!
Newest Update: April 28, 2022
- - -
If you have any questions, please, don't hesitate to get in contact with me! You can e-mail me at 
sarahdawnsdesigns@gmail.com
Photo Credit:  Stephanie Wallace
Image Descriptions:
1)  A woman wearing a garter stitch and lace crescent shawl. The shawl is striped in a blue-green gradient. One edge of the shawl is out of frame, with the other end wrapped around her shoulder, with the wingspan held open.
2)  A woman with her back to the camera. There is a crescent shawl done in garter stitch and lace draped across her back and arms.
3)  A woman wearing a shawl wrapped around her neck and shoulders. The shawl is a crescent shawl with alternating stripes of garter stitch and lace, knit in a blue-to-green gradient.
4) A knit shawl of garter stitch and lace stripes held out over someone's arm. The shawl is made in a blue-to-teal gradient
5) A woman wearing a gradient garter stitch and lace shawl across her shoulders.